Dessert Choices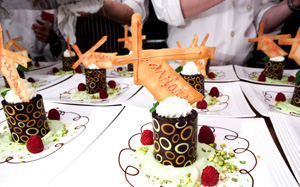 Warm Valrhona Chocolate Cake
Grand Marnier Ice Cream & Orange Confit
Coconut Panna Cotta
Macaroon Cookie
Pineapple Compote with Aleppo Pepper
Dark Chocolate Pot de Creme
Crisp Meringue & Scottish Short Bread Cookies
Banana Walnut Bread Pudding
Served Warm with Bananas Foster & Vanilla Bean Ice Cream
Crème Snita from Lake Bled
Vanilla Custard Crisp Puffed Pastry & Strawberry Compote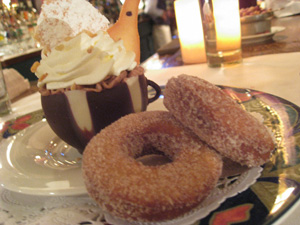 Organic Carrot Layer Cake
Mascarpone Frosting & Creme Anglaise Candied Pecans
"Classic" Crème Brulee
Caramel Dome
X2O "Oreo"
Chocolate Shortbread & Mascarpone Cream
Tahitian Vanilla Milkshake
Passion Fruit Sabayon Tart
Butter Cookie Crust & Sour Cream Sorbet
Soft "Torched" Meringue
A Tasting of Ice Creams and Sorbets
All Desserts $9.50
Selection from Cheese Cart
1 Cheese $4.50
3 Cheese $9.50
5 Cheese $15.50
Grand Tasting $25.00
Beverages
International Coffees
Eight Dollars
Espresso
Single-Five Dollars
Double–Six Dollars
Cappuccino
Regular or Decaffeinated
Six Dollars
A Selection of Tea 
Five Dollars
Lemon Verbena
Caffeine Free herbal tea with a hint of lemon
Mint Verbena
Earthy mint tea with the freshness of lemon
Earl Grey Supreme
A superior blend of higher grade teas.
English Breakfast
An uncomplicated classic.  100% Chinese Black Tea
Japanese Sencha
A Japanese green tea meant for everyday drinking.
Chamomile
An unusually strong Tisane with a fresh scent and hints of green apple.
Decaffeinated Ceylon
High quality black tea with the caffeine removed.
Rooibos with Vanilla
A rooibos with the sweet notes of vanilla & almond.
Green Tea with Mint
A green tea subtly flavored with mint.
---